| | |
| --- | --- |
| Welcome to Graber Ministries Inc.. | |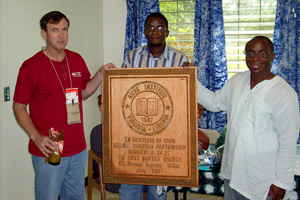 ---

---

Pictures and Video of the new Junior High!
pictures and video of the new Junior High building on the Graber Ministries Academy in Greenville, Liberia.

---

June 2022 Updates

---

Through God's grace and blessing, many wonderful things are happening at BMI...see more

---




.

I wanted to share this song with you again. God put it in my heart, and my friend Steve Butler recorded it. My hope is that the message of love will bless your lives and be a ray of hope in this wild and wacky world. I pray that the message and
music of the song blesses you)




.

Now available in E-book format! The price is only $6.95!



You'll find it in these fine establishments:

Barnes and Noble (click here)

Apple Store: (click here)

Amazon USA: (click here)

India: (click here)

In the UK: (click here)

In Spain: (click here)



Also available in Germany, Mexico, France, Italy, the Netherlands, Japan, Brazil, Canada, Australia, and many other countries.

Please order your copy today, and encourage family and friends to order their copy too!! Every copy sold has the potential for individuals to experience being the mission of the Holy Spirit, and helps us to do Holy Spirit ministry around the globe.

Thanks for partnering with us in this mission!

---

What can $50 buy? Not much now days, a tank of gas or maybe a movie for two.
But...what if you could be a part of something bigger than yourself? Something
that makes a difference in so many ways you can't count?
Would that be worth $50?
All support can be sent to Graber Ministries at 115 N High St, El Dorado, KS 67042
Thanks and God Bless.

Click Here to find out more!
Welcome to Graber Ministries! This ministry was birthed in the mid 1980's to compliment Wade's pastoral ministry. It began as evangelistic and renewal gatherings. Radio broadcasts were added. Missions to Liberia came into focus, September 24. 1992 when Wade received a collect phone call.

Those ministries have included evangelistic outreaches, pastor training, church planting, Bible distributions, starting schools, supporting orphans, child sponsorships, reopening medical facilities, and numerous other personal contacts.

The results of these joint endeavors include: a Liberian church in New Jersey, 6,000 plus saved and given a Bible in Liberia, two Graber Ministries Academies, support of an orphanage, help to rebuild Ricks Institute in Virginia, Liberia, RISS child sponsorship, two medical clinics re-opened and celebration of the Hospitals of Hope 1.1 million dollar installation at JFK Memorial Hospital in Monrovia, more than 240 churches planted through First Baptist Church El Dorado and OMS, and numerous other personal contacts.



Wade is married to Peggy and they have two married children.